[ My Gallery ]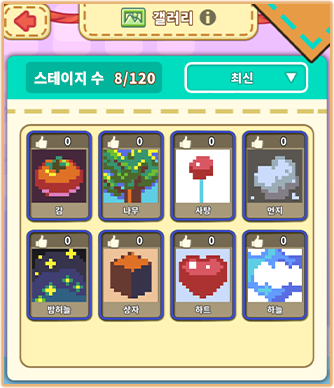 In the gallery, you can see your stage at a glance.
You can see the details of the stage by touching it.

You can check the number of stage you have made.
You can sort pictures in a gallery as follows:
Latest / Recommended / Difficulty / Size

Show Frame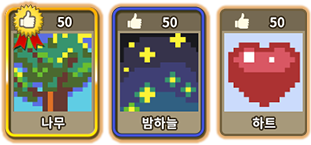 The stage selected for the Grand Prix shows a golden border and a medal.
The current season's pictures are shown in blue borders, the previous season's pictures do not have any border.

Show Stage Images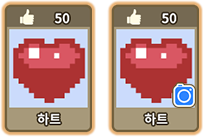 For stages created by modifying a picture, a camera icon is displayed in the stage image.

The stage with accumulated number of Reports

If the stage got more than 10 reports, the number of Likes will be covered with yellow warning signs and will not be temporarily exposed in the exhibition hall.
After checking, any stage that are deemed inappropriate will be deleted, and any stage that are not problematic will be exposed to the exhibition hall again.

The Deleted Stage

The number of deleted stage's Likes will be covered with red warning signs, and the picture can no longer be viewed.
Inappropriate stages may be deleted even if no reports are accumulated.

[ Gallery Details ]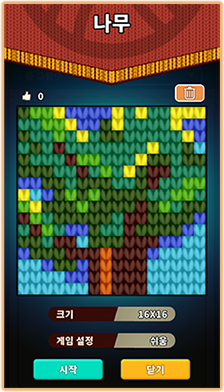 The gallery details provide the following information:
Stage Image / Title / Number of Likes / Size / Difficulty

Start My Stage
You can test your own stage by touching Start button in Gallery Details.
The stage you made does not consume red wool and does not rewarded.

Delete My Stage
You can delete a stage by touching the trash icon in the gallery details.
You cannot delete the stage during the grand prix nominating day.
The stage has been selected for the Grand Prix cannot be deleted.

Show Gallery Details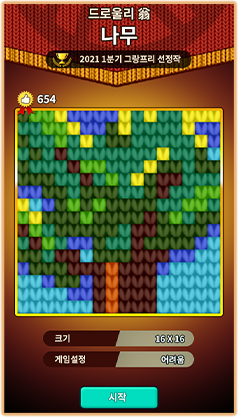 The stage which has been selected for Grand Prix is displayed with a golden border and a medal, and can check the selected season.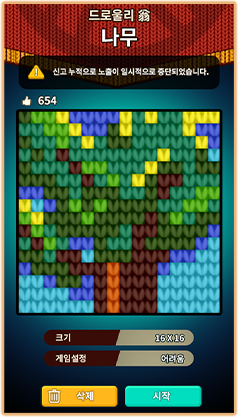 The stages which has been reported more than 10 times have yellow warning signs and are temporarily not exposed.
If The stage has no problem, the warning signs will be eliminated and the stages will be exposed again.

[Friends Gallery ]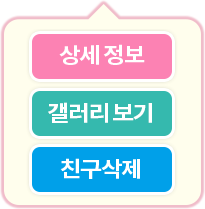 When you touch the View Gallery in the Friend list, the Friends Gallery pops up.

Gallery List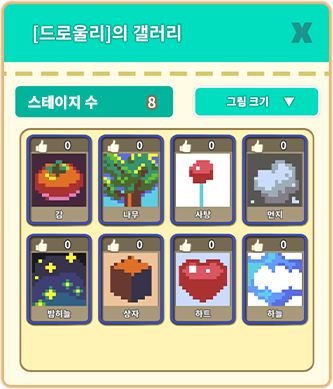 In the Friend Gallery, you can see at a glance the stage that your friend made.
Touch the stage to see the details of the stage details.

[ Stage Details ]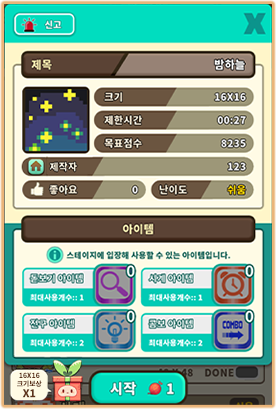 Touch Start to play the stage.
When users play the stages, red wool is consumed.

Report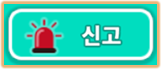 If an inappropriate picture is found, you can report it by the Report button in the stage details.
When you touch the Report button, a report notification pops up.
If you touch Report button on a pop-up notification, the report will be processed.

Evaluation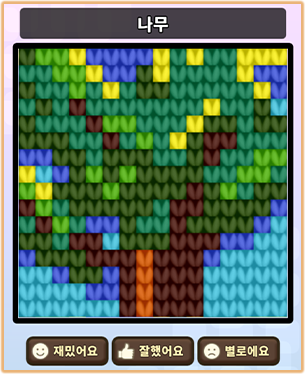 You should clear the stage to evaluate the stage.
The stage can only be Evaluated on initial clear.
Only the current season's stages can be evaluated.