[ Main Yarn ]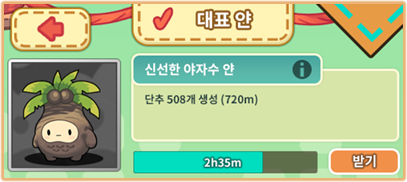 You can set one of your yarns as the Main Yarn.

The Main Yarn can be set in the Yarn details.

When a Yarn is set as the Main yarn, the skill of the Yarn will be applied .

[ Yarn skill ]
Yarn has the skill.
The higher the Yarn rating, the better skills it has.

Yarn's skills can be checked at the Main yarn and yarn details.

Yarn Skill Types
Once you register a yarn as the Main Yarn, you can use the Yarn's skills.

Yarn's skills are classified into [produce skill] and [support skill].

If a Yarn with [produce skill] is set as the Main Yarn, items are produced every certain time.

If a Yarn with [support skill] is set as the Main Yarn, the skill will be activated whenever you play the game.
However, if you set the Yarn with the item produce skill to main Yarn and changed it others, the time remaining for item production will be reset.

[ Holding Yarns ]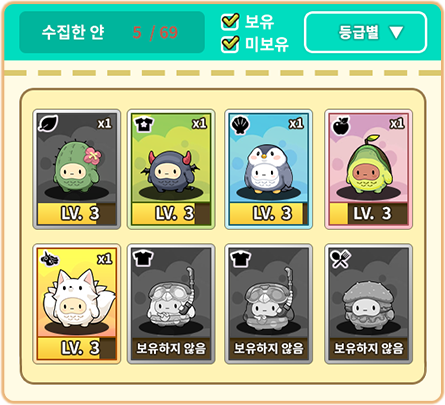 You can see the entire Yarn's information at a glance from the Holding Yarns.

The yarn list is sorted by grade.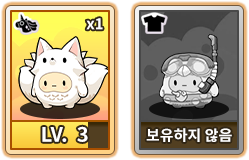 Collected yarns are displayed in color and yarns do not have are displayed in black and white.

The Yarn pictorial book shows the following details:

Collect Status / Name / Yarn Image / Rating / Number of Holds

Touch the Yarn image to see the details of it.

[ Yarn Details ]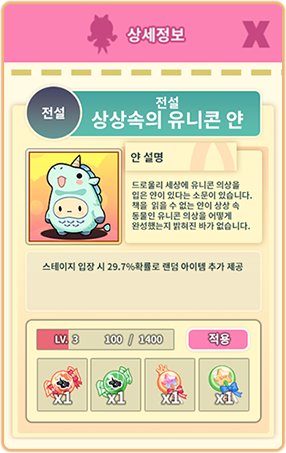 The following information can be found in the Yarn details:
Yarn Image / Yarn Name / Raiting / Description / Skill

Yarn Level Up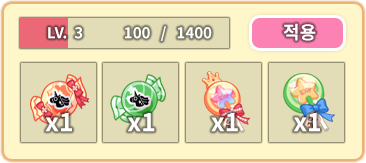 You need fudge or candy and Danchu to raise Yarn's level.
Fudge and candy can be purchased at a store or are obtained by various rewards.
Kinds of fudge and candy

[Fudge], [Candy]
It can be used for Yarn which fits its type.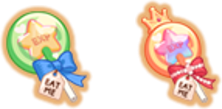 [Star Fudge], [Star Candy]
Available for all Yarn.
Selecting a Fudge or candy from the details and touching the Apply button consumes the selected Fudge, Candy, and Danchus and increases Yarns experience.
Closing the Yarn Details without touching the Apply button, will not consume Fudge and candy.
If you fill all the experience values for that level, the level will rise.
If Yarn's level goes up, Yarn's skill effect goes up.

Rating

Yarn's ratings are divided into [Normal], [Rare], [High class], [Hero], and [Legend].

The background will be different depending on the ratings of Yarn.

Yarns in the higher rating have better skills.
Type

There are various type of Yarn in Drawoolly.
The type of yarn is indicated by icon which is in yarn book or details.
Candy and fudge can be used for the same type of Yarn.